There are a wide variety of therapeutic options and interventions that have been demonstrated to be effective in the treatment of drug abuse and addiction. Depending upon the experience of the patient during active addiction as well as her goals for treatment and beyond, different therapies may be more or less appropriate.
For example, when a patient is living with a co-occurring mental health disorder or symptoms that may indicate a mental illness (e.g., depression, anxiety, paranoia, panic attacks, mood swings, etc.) then co-occurring disorders treatment that provides therapeutic treatment for the mental health issue as well as substance abuse or addiction is recommended. Therapies may be chosen based on their ability to aid the patient in learning how to manage these mental health symptoms as well as avoid relapse.
Though each person's treatment plan will include different therapies, there are a number of traditional therapies that are commonly utilized in most cases. Here are just a few.
Personal Therapy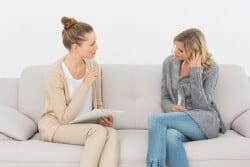 The cornerstone of therapeutic intervention for addiction is the one-on-one therapy session. Here, a patient can discuss the big picture in terms of his experience in recovery and, with other therapies, create treatment goals, address any acute issues and stressors, and gain the support he needs to keep moving forward in a safe forum.
The one-on-one psychotherapy session is often client-led under ordinary circumstances but in the context of addiction treatment and/or treatment for co-occurring disorders, the direction of treatment may be a team effort agreed upon by both therapist and patient. In most cases, sessions meet once per week for 50 minutes, but in some instances, it may be recommended to increase the number or length of sessions to meet treatment goals. These details will be determined at the beginning of treatment as a baseline of information is taken by the therapist to create treatment goals and begin the process of noting progress and change across treatment sessions.
There are different styles of psychotherapy in the one-on-one context that are evidence-based in addiction treatment and the treatment of certain mental health disorders. Some of the most commonly used and effective therapies include cognitive behavioral therapy (CBT) and dialectical behavior therapy (DBT). Both aid patients in viewing their history and their present circumstance in a new, more positive light and learning how to reframe their perspective to improve their experience in the future. Neither therapy is specifically focused on addressing underlying mental health symptoms or past trauma; however, both provide the patient with coping mechanisms that can aid in relapse prevention, decreased experience of stress, and increased quality of daily life.
Cognitive Behavioral Therapy (CBT)
Cognitive behavioral therapy combines the principles of both cognitive therapy and behavioral therapy to empower patients to identify how their perspective, behaviors, and thought processes may be making their life experience and social interactions more difficult than they would be otherwise. With this understanding and recognition, patients can turn their attention to shifting their viewpoints, actions, and philosophies with the goal of improving their life experiences.
Additionally, CBT is usually a time-defined therapy; the number of sessions is determined by the specific goal created by the therapist and patient, and the patient works toward achieving that goal within the bounds of that timeline.
Dialectical Behavior Therapy (DBT)
Dialectical behavior therapy is a form of CBT. It takes the foundation laid by the therapeutic principles of CBT treatment and builds upon it by emphasizing the implementation of behaviors that improve the ability to love oneself and engage positively with others. Validation of feelings toward oneself and others, acceptance of all one's personality characteristics, and mindfulness (e.g., learning how to be engaged in the moment and nonjudgmental) all play a large role in DBT. Often, DBT is combined with group therapy to allow patients the opportunity to practice their new behaviors.
Group Therapy
Group therapy offers those in addiction treatment a safe and structured forum to connect with others who are similarly in the process of overcoming addiction. It provides them with the guidance of a trained substance treatment professional to assist the practice of positive social interactions and learning. In combination with personal psychotherapy, the Substance Abuse and Mental Health Services Administration (SAMHSA) says that incorporating different types of group therapy into a comprehensive addiction treatment program offers patients a range of benefits that may include:
The opportunity to connect with others in a positive way
Reduced isolation and loneliness that can contribute to relapse
Educational information and resources to better understand the nature of addiction and recovery and/or manage specific mental health issues, life issues, and more
The ability to learn what works and what doesn't from the shared stories of other participants
The opportunity to give and get peer support during difficult times
A safe place to process trauma and past experiences
Accountability for one's choices from others in the group
Some options in group therapy include:
Psychotherapeutic educational groups: These groups offer patients education and information about their substance abuse disorder and/or mental health symptoms. Patients can utilize this information to identify the signs of potential relapse and/or mental health episodes before they start, giving them a chance to implement positive coping mechanisms.
12-step groups: Based on the 12 steps and traditions, these group meetings provide participants with a place to share their experience and connect with others, including a sponsor who can assist them in working the 12 steps.
Specific skills group: Job skills, parenting, legal matters, and anger management – there are numerous possible foci for skills groups, and each type can contribute to the patient's ability to thrive in recovery.
Cognitive behavioral groups: Similar to CBT in a one-on-one context, these support groups empower individuals working in CBT and DBT to practice the implementation of their new, positive perspectives and encourage participants to be flexible and nonjudgmental in their interactions with others.
Communications groups: These group sessions are focused on empowering a specific relationship that all participants in the group share in common (e.g., romantic partners/spouses, parent/caregiver and child, etc.), providing a forum for each pair to process past issues and practice getting needs met positively while rebuilding the relationship after addiction with the assistance of the group and a therapist.
Family TherapyHolistic TherapiesExperiential Therapy
Family members can play a critical role in empowering an addicted loved one's recovery from drug and alcohol abuse and addiction, both during treatment and once the person returns home. A range of different family therapy options is available, each one providing different mechanisms to help family members rebuild trust and strengthen communication skills.
Many family therapy models are based on systems theory, which says that:
Addiction and/or a mental health disorder of one family member is not the center of a functional family.
Each family member contributes to a group dynamic that is larger than the sum of the individuals involved.
Different family members connect differently.
Families benefit from implementing rules and boundaries.
Adaptability is an essential part of a functional family as the needs of everyone involved evolve and change.
Different family therapy options are available, including:
Cognitive behavioral model: It is often the perspectives and thought processes of individual family members that contribute to problems in communication. These can be addressed directly in the CB model while providing patients with the opportunity to avoid blame and instead work toward choosing behaviors that strengthen their relationship.
Family disease model: Addiction is a disease that impacts everyone in the family. This style of treatment is based on the concept that everyone is in recovery and requires treatment in order to become a functional family.
Family systems model: Many family members inadvertently enable the addicted person's continued use of drugs and alcohol. This type of therapy seeks to identify those behaviors and replace them with more positive choices that enable recovery.
Multidimensional family therapy model: The home environment, the emotional state of family members, as well as behavioral and mental health disorders like substance abuse and addiction all play roles in a family dynamic. Learning how to find balance and manage this interplay of dynamics is the focus of this style of treatment
Holistic therapies seek to treat the whole person: physical health, mental health, emotional health, and spiritual wellbeing. They often provide patients with coping skills that lower their overall stress levels, improve immune function, improve mood, and increase the ability to avoid relapse in recovery.
Addiction treatment and therapies that are holistic in nature are based on the following concepts:
Addiction does not define who the patient is.
No addiction is untreatable.
Comprehensive addiction treatment should address the issues that drive addictive use of drugs and alcohol rather than just the symptoms of the disorder.
Holistic therapies provided by addiction treatment specialists can help patients to thrive in every part of life in recovery.
According to the Journal of Psychoactive Drugs, some evidence-based holistic treatments for addiction include:
Yoga: Different types of yoga, ranging from meditative to fast-paced cardiovascular exercise, may be beneficial in reducing stress, improving physical strength, and providing patients with a space in their day that is just for them.
Acupuncture: The use of long, thin needles inserted into the top layers of skin to unblock energy has been proven to be effective in the treatment of addiction, according to the journal Neurochemical Research.
Meditation: The practice of meditating and being mindful in the moment can also benefit patients in recovery when a part of a comprehensive addiction treatment program, according to the journal Substance Abuse.
Bodywork and massage: Reduction in stress as well as improved physical health, flexibility, and improved mood provided by regular massage and bodywork may all benefit a patient's experience in recovery.
The Journal of Consulting and Clinical Psychology reports that experiential therapies can help patients in recovery from substance abuse and addiction to actively work through some of the issues related to trauma, difficult mental health symptoms, abuse, and other issues that may be impacting their ability to stay sober.
Depending upon the patient's interests, treatment goals, and the options available, some choices in experiential therapy include:
Sports therapies: A range of sports and exercise can be therapeutic, helping patients to practice communication skills, build trust, and work together.
Animal-assisted therapy: Working with dogs, horses, and other animals can be immensely therapeutic for patients who find it difficult to connect with others and feel safe in relationships.
Outdoor adventure therapies: Going on exploratory adventures, trying new things, taking risks, and getting outside – all of these offer a variety of therapeutic benefits, including connecting and working together with other participants.
Psychodrama: Role-playing in order to reframe or recreate past experiences and enact a more positive outcome, or to process the event with the goal of moving forward, is the focus of psychodrama.
Art therapies: Dance therapy, art therapy, and photo therapy – these are just a few of the different artistic options that can be used to explore emotions and experiences in a therapeutic forum.
Individualized Treatment: The Key to Recovery
A unique combination of traditional, holistic, and experiential therapies can help each patient to address his individual experience prior to addiction and during active drug use, learning new coping mechanisms that will improve his ability to remain sober for the long-term. Each person's treatment plan and schedule of therapies will be different as a result – and patients are encouraged to speak up and have a voice in the direction of their therapeutic choices in treatment and beyond.
The therapies that are effective in helping patients to progress in drug rehab may also be effective tools in helping them to remain sober as they transition home. Aftercare treatment should include a range of therapeutic options to empower the person's ability to remain actively engaged with her recovery and connected to the principles and positive coping mechanisms that will help her to avoid relapse.
To learn more about the specific addiction therapies that may benefit you or your addicted loved one in treatment, contact Orlando Recovery Center today.
Medical Disclaimer
The Recovery Village aims to improve the quality of life for people struggling with a substance use or mental health disorder with fact-based content about the nature of behavioral health conditions, treatment options and their related outcomes. We publish material that is researched, cited, edited and reviewed by licensed medical professionals. The information we provide is not intended to be a substitute for professional medical advice, diagnosis or treatment. It should not be used in place of the advice of your physician or other qualified healthcare provider.