Dialectical behavior therapy (DBT) is a style of therapy that has been proven to be exceptionally effective in the treatment of substance abuse and addiction disorders as well as mental health disorders that are notoriously difficult to treat.
Classified as a type of cognitive behavioral therapy (CBT), DBT empowers patients to positively shift their underlying view of a situation as negative and harmful and accept that situation without judgment, thus improving the nature of their day-to-day experience and increasing their ability to experience contentment and joy.
DBT is different from most cognitive behavioral therapies in that it utilizes a range of different therapeutic strategies and techniques, and it does not encourage patients to reframe an upsetting or triggering experience as potentially positive or ignore it entirely. Rather, DBT therapists provide patients with a set of traditional and holistic coping mechanisms that empower them to accept situations as they are, recognizing that some will be negative in nature, but allowing that experience to be what it is without responding emotionally – and potentially making the situation more difficult as a result.
Additionally, DBT helps patients to explore the thoughts and perspectives that drive their actions – an excellent tool for patients struggling with co-occurring disorders (e.g., substance abuse or addiction and a mental health disorder like anxiety or depression).
History of Dialectical Behavior Therapy
A psychologist named Marsha Linehan developed dialectical behavior therapy after finding that cognitive behavioral therapy was not helpful in addressing the suicidal tendencies experienced by borderline personality patients and other patients who struggled with low self-esteem and poor self-worth. Linehan found that when patients were encouraged to accept the reality of a situation rather than attempt to reframe it, they could apply that same process to themselves – that is, by practicing self-acceptance they could recognize their flaws without judgment and learn how to find value in all types of experience rather than making choices that harm them or their relationship with others.
Today, DBT is a valuable part of borderline personality disorder treatment, but it has also been adapted for use in the treatment in a range of mental health disorders, including substance abuse and addiction.Principles of DBTBenefits of Dialectical Behavior TherapyDBT and Addiction TreatmentSymptoms Addressed by DBT
The Substance Abuse and Mental Health Services Administration's National Registry of Evidence-Based Programs and Practices says that the principles of dialectical behavior therapy include:
Creation of an individualized behavioral treatment plan
Structured therapy sessions
Skills training for patients
Access to a therapist outside of scheduled therapy sessions
"Homework" assignments for patients to work on outside of sessions
Inclusion of family members in therapy sessions
Communication between DBT therapist and patient's other therapists and providers
Patients in recovery are not victims of anything or anyone, according to the principles of dialectical behavior therapy. No matter what their past experience – including trauma, abuse, chronic disease, and other serious issues – patients in DBT can regain control over their lives and their experience. Rather than accepting the thought patterns and assumptions that define those experiences as inalterably negative, patients can utilize DBT principles to accept the facts of these experiences without the painful emotional response. A patient instead chooses to acknowledge that the event happened, recognize that it is in the past, and decide that the present moment and future moments need not be marred by that experience.
DBT provides patients with actionable skills that will enable them to turn this concept into a reality, regain control of their emotions, and improve their quality of life. Though the specifics will vary based upon the needs and experience of the patient, some of these skills can include:
The ability to pause before reacting, assess the facts of the situation, and determine whether or not their functionality will be impacted in any significant way
The ability to verbalize their observations and process any feelings or thoughts that arise with honesty and accuracy
The ability to self-assess one's emotional response to stimuli with honesty and gain a clear understanding of where that response is coming from
The ability to make fact-based decisions about how to respond without emotional judgment
The ability to practice mindfulness in a range of situations and live in the moment
The ability to determine the most effective coping strategy in a given situation and routinely make the choice to manage emotion and practice non-judgment with the goal of increasing happiness and overall wellness
Dialectical behavior therapy is an evidence-based treatment for substance abuse and addiction as well as for a range of co-occurring mental health disorders. In the treatment of drug and alcohol abuse, DBT focuses on increasing the patient's ability to:
Increase avoidance of use of all illicit substances
Reduce the severity and frequency of relapses if they do occur
Reduce the negative impact of relapse
Patients in treatment for addiction may benefit from in-person DBT therapy sessions, sessions held outside of the traditional therapy office, and access to their therapist by phone, text, or email if they feel tempted to drink or get high. Additionally, DBT therapy is unique in the treatment of addiction in that many DBT therapists will attempt to find patients who miss sessions without reason in order to intervene in the event of relapse. The intensive nature of DBT and the round-the-clock support provided by many therapists in the treatment of addiction make it an excellent resource for patients enrolled in outpatient treatment.
While a range of patients can benefit from applying the principles of DBT to their treatment program, DBT has been shown to be of demonstrable benefit to those in need of assistance managing symptoms that include:
Drug and alcohol use
Depression
Self-harming behaviors
Suicidal thoughts, ideation, or tendencies
Emotional dysregulation
Poor self-worth
Dialectical Behavior Therapy and Emotional Dysregulation
Drug and alcohol abuse can make it difficult to manage emotional responses to stressful situations, events, and people. For patients in recovery, this experience of emotional dysregulation can trigger cravings for drugs and alcohol and increase the chance of relapse. Anything from an unexpected or unwanted change to a tense interaction with a stranger can cause disproportionate response. For example, someone living with emotional dysregulation may respond to a friend who disagrees with their opinion on a mundane topic by refusing to speak to them for weeks or by assuming the friendship is over.
One of the principles of DBT is that emotional dysregulation is a learned response to stimuli that can be modified and controlled. That is, patients do not have to respond to any uncomfortable situation with an overly emotional reaction that escalates the situation. Rather, they can learn to be mindful of the feelings and thoughts that trigger their disproportionate response and instead choose to view – and react to – the situation objectively and without judgment, thus minimizing any negative impact caused by the experience.
Dialectical Behavior Therapy and Depression
Similarly, depression symptoms can be effectively treated with dialectical behavior therapy principles as well. Applying the technique of acknowledging feelings of sadness or hopelessness without judgment and then seeking the support and guidance of the DBT therapist in utilizing coping skills to handle the specific symptoms they are experiencing can help patients in recovery to avoid relapse due to symptoms of depression.
Should the patient experience the urge to self-harm or suicidal thoughts, these too can be addressed through the DBT principles of mindfulness and non-judgment. Round-the-clock access to the DBT therapist can be an especially effective strategy in addressing this particular symptom in recovery as well.
DBT and Self-Distraction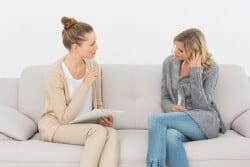 It's true that dialectical behavior therapy requires persistence, dedication, and an open mind – and that some patients may find it more challenging than others. However, even for patients who do not feel that they will be able to master the DBT skills of mindfulness, rational assessment, and emotion management, there are still DBT strategies that can empower patients in recovery to make small changes that can add up to big change later: self-distraction techniques.
These include:
Actively choosing to engage in a fun activity as opposed to continuing to engage in the undesired behavior or emotional response
Choosing to shift focus from one's personal experience to the needs or experience of someone else
Creating a gratitude list
Making small, directed changes with an eye toward improving one's mood
Making a concerted effort to think about something positive
Taking part in an intense (but not risky) behavior (e.g., going rock climbing, eating spicy food, etc.)
Choosing to make a small and specific change to positively improve the situation in the moment and thus choosing to stop engaging in the destructive behavior can help to create enough of a shift in focus that mood is improved, allowing the patient to take control and positively impact their daily experience.
Dialectical Behavior Therapy: A Positive Addition to Addiction Treatment
Dialectical behavior therapy can play a critical role in a patient's ability to learn accountability and take charge of their life experience in a way that is positive and empowering. Learn more about how DBT can play a part in your recovery from addiction or your loved one's treatment when you contact Orlando Recovery Center today.
Medical Disclaimer
The Recovery Village aims to improve the quality of life for people struggling with a substance use or mental health disorder with fact-based content about the nature of behavioral health conditions, treatment options and their related outcomes. We publish material that is researched, cited, edited and reviewed by licensed medical professionals. The information we provide is not intended to be a substitute for professional medical advice, diagnosis or treatment. It should not be used in place of the advice of your physician or other qualified healthcare provider.