A Woman's Guide to Recovery
By The Orlando Recovery Center
Last Updated: May 2, 2023
Editorial Policy | Research Policy
Addiction treatment focuses on the realities of substance abuse. Stigma is one of those unfortunate realities, and for some, it can prove to be a barrier to treatment.
Do female substance abusers face a different stigma from men? According to Addiction Professional, they do.[1] Women who are addicted may be considered poor mothers, bad wives, and irresponsible and selfish. These are heavy accusations that can instill feelings of shame and create a massive disincentive to seek treatment. Surveys of intake numbers at treatment centers demonstrate that females seek formal rehab treatment less often than males – and not because they need it less.
Orlando Recovery Center treats both women and men. It is not a women only facility.
As Addiction Professional discusses, the following factors contribute to the stigma around female addiction and a woman's greater propensity not to seek formal rehab treatment:
The social roles women occupy and archetypal perceptions (such as mother, caregiver, and wife)
A tendency for family members to be in denial
Pregnancy (it is difficult for the substance abuser and her loved ones to reconcile the simultaneous status of addict and mother)
A failure of many to see addiction as a disease rather than a matter of choice[2]
Drug education is not only a prevention tool, but it is also a way to de-stigmatize substance abuse. For the female substance abuser, stigma may be a barrier to treatment, but one that can be overcome with supportive guidance from an addiction specialist and treatment team. A substance abuser is never alone.
Differences & Similarities Among Genders
From a treatment standpoint, research on the impact of sex (male or female) on substance abuse is highly instructive. Research shows that sex is a factor in when a person is first exposed to drugs, the risk of addiction, and the effectiveness of treatment. An understanding of these dimensions can reduce the dangers associated with substance abuse and improve treatment outcomes.[3]
Sex vs. Gender: What's the Difference Exactly?
The terms "sex" and "gender" are often used interchangeably, but they have different meanings. Sex is a biological status, which is unchangeable without a surgical intervention. Gender relates to appearance, not biology – it's how people dress-up and act out their sex or perceived sex. Neither sex nor gender indicates a person's sexual orientation or preferences. Sex and gender matters may bear on the substance abuse treatment process for lesbian and bisexual individuals in particular. Substance abusers who self-identify as lesbian or bisexual are best advised to discuss any needs or concerns related to this status with the addiction specialist working with them.
The National Survey on Drug Use and Health, sponsored by the Substance Abuse and Mental Health Services Administration, is one of the most comprehensive and reliable sources of information on substance abuse in America. The 2013 survey considered differences between male and female drug use behaviors and made findings including:
The rate of current drug use (in the month prior to the survey) among males aged 12 or older (11.5 percent) was greater than females (7.3 percent) in the same age group.
Regarding drinking, 57.1 percent of males in the 12-and-older age group were current drinkers compared to 47.5 percent of women.
In the 12-and-older age group, males (14.1 percent) were more likely than females (7.9 percent) to drive under the influence of alcohol in the past year.
Regarding first-time initiation into drug use, 58.3 of these new initiates were female.[4]
The National Institute on Drug Abuse (NIDA) provides additional insight into how males and females experience substance abuse differently and similarly. NIDA notes that one reason males are statistically more likely to use drugs than women is that they tend to have more opportunities to do so. Females can become dependent or addicted to drugs just like males, but with regard to vulnerability by drug type, the sexes demonstrate similarities and differences.
Similarities and Differences
Males and females tend to become dependent or addicted at a similar rate when the drugs of abuse are heroin, cocaine, inhalants, hallucinogens, or tobacco.
Females tend to be more vulnerable to dependence or addiction to tranquilizers formulated to treat anxiety and/or insomnia.
Females are less likely than males to abuse marijuana and alcohol.[5]
Social Factors of Women in Treatment
Compared to males, females are less likely to have graduated from high school.
Fewer females than males are employed.
Females are more likely to have other health problems.
More females than males have attempted suicide.
There is an increased rate of sexual and physical abuse among females.
Source: NIDA
Substance abuse has a gravity that, like a black hole, tends to draw all of life towards it. However, even when rehabilitated and sober, a recovering substance abuser may face a host of serious diseases, such as HIV or AIDS. For females, substance abuse is almost twice as likely to be directly or indirectly linked to having AIDS (66 percent of women versus 34 percent of men). There is evidence of a biological difference in the way females and males process HIV. Compared to males, in females, half the amount of the virus can progress to AIDS in the same timeframe. Of those cases where HIV progresses to AIDS, 47 percent of females are injecting drug users (IDUs) whereas 32 percent of males are IDUs.[6]
Female-Only Treatment Programs
The proliferation of drug rehab programs has opened up an extensive menu of service options for individuals seeking treatment. Mixed-gender treatment opportunities abound, and female-only ones are also readily available in many locales. But what can female-only treatment provide that mixed-gender rehab does not? Is there really any difference in treatment outcomes to warrant the separation?
At the outset, it is important to note that the rehab process involves the following steps:
Recognition of substance abuse/intervention
Initiation into treatment
Program completion
Aftercare
Regarding initiation into a program, offering females a female-only rehab service option can smooth the pathway into treatment. According to a report from the National Institute on Alcohol Abuse and Alcoholism, female substance abusers do seek treatment but may do so in a non-clinical setting, such as from a primary health care or mental health provider.[7] Some females do not even seek help from medical providers, but rather focus on faith and seek guidance from a pastor or other religious professional. This approach does not offer the structure of a rehab, and untrained persons are not equipped to treat addiction.This informal setting choice that some females opt for may account for the statistical fact that females seek formal rehab treatment less often than males do. As there is evidence that women do in fact seek treatment, but maybe just not from rehab services, offering female-dedicated facilities can be attractive and inviting. In some instances, the greater formality of a structured program may trigger heightened feelings of shame, guilt, and self-doubt. For this reason, female substance abusers may need additional encouragement to enter structured treatment programs.
Research reported in The American Journal of Drug and Alcohol Abuse points out that the differences between the female and male drug experience, as discussed earlier, necessitate the use of different treatment methodologies.[8]The article notes that mixed-gender rehab services are likely to be less attractive to, and less successful in retaining, females who are especially vulnerable, such as those who are lesbian, have a history of physical and/or sexual abuse, and those who have worked in the sex trade. In addition to traditional treatment services, whether females are in a female-only or a mixed-gender program, they may need the following resources:
Child care
Transportation to an outpatient program
For pregnant substance abusers, information about their criminal liability if they seek treatment
Supportive staff members that can address the vulnerabilities associated more with females than males (such as history of co-dependence, sexual abuse, and oppression)
Domestic violence support/counseling (where applicable)
A nurturing environment that emphasizes self-worth, addresses the many roles and stresses females face, and provides positive female role models[9]
The comfort that a female-only environment can provide must not be downplayed as a simple matter of convenience or preference. The setting can actually have an impact on getting a female into treatment, keeping her there, and helping her to succeed in recovery long-term. A female-only setting can be perceived as safer than a mixed-gender program where male presence may be associated with male dominance. The mere presence of males can be a cue for females to quiet their voices and not discuss painful experiences. In other words, for females who have a history of abuse at male hands, or have negatively experienced male dominance, a coed rehab setting may serve as a microcosm of society and be harmful to their recovery.
A female-only setting cannot only provide distance from males, but it can assist in female-to-female bonding. A female-only rehab facility can help females to better identify with one another, discover their similarities, and thereby open up a dialogue about the experiences underlying their substance abuse.
Female-specific treatment can either occur at the program level in a female-only group setting or in a mixed-gender program that offers services dedicated to female clients. From a research standpoint, one of the most effective ways to learn if there is a difference between female-only and mixed-gender programs is to compare outcomes from each. The following is a sample of research findings:
A Los Angeles study of 4,117 females treated in a publicly funded inpatient program found that participants in female-only rehab spent more time in treatment and were more than twice as likely to finish treatment compared to the females in mixed-gender rehab programs.
A Swedish study of females in alcohol treatment found that at the two-year follow-up mark, those who participated in female-only programs had more success in terms of rehab and social markers, such as employment.
One study compared 80 females in female-only treatment with 80 females in two mixed-gender programs and discovered that there were no appreciable differences in treatment outcomes at the six-month follow-up mark (such as self-reports of substance abuse, detoxification episodes, drug-related criminal convictions, and NA/AA meeting attendance).
A study of cocaine-addicted mothers in a mixed-gender program that featured a female-specific treatment program offered one group case management-oriented outpatient treatment and the other psychosocially enhanced treatment (PET). The PET program had better results in terms of length of stay (15.4 weeks versus 13.9 weeks). While both groups reduced cocaine use, the PET group had considerably fewer days of cocaine use at the 12-month follow-up mark.[10]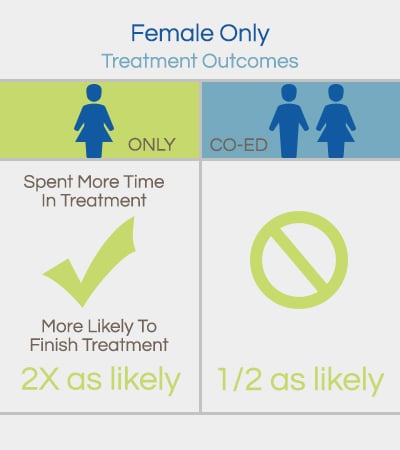 The research cited suggests that female-only facilities or female-only programs within mixed-gender programs may have better outcomes but not necessarily. It does appear clear, however, that female substance abusers will need to be screened (whether in a primary care setting or a rehab setting) for those factors that can contribute to heightened vulnerability (such as sexual abuse, physical abuse, child care needs, HIV/AIDS diagnosis, low income, lack of education, and unemployment). Addressing the needs females have – and not just substance abuse treatment needs – can help with rehab program admission, retention, and treatment success.
Questions?
Our recovery advocates are available 24/7 to answer any questions you may have and connect you to the resources you need.
All calls are 100% confidential
Sober Living for Women
Whether a recovering female substance abuser completed a female-only or mixed-gender program, she can opt for residence in a female-only sober living facility. One of the hallmarks of a sober living home is safety, but there should be no expectation of services on par with rehab centers. The operators of these homes take approaches that are largely based on their personalities and personal experiences rather than formal guidelines.
Residence in a sober living home can be an instrumental part of an aftercare plan dedicated to long-term abstinence maintenance.
It is important to note that sober living is only one aspect of aftercare, which includes the following:
Ongoing outpatient care
Meeting regularly with a psychotherapist
Consistently attending Alcoholics Anonymous, Narcotics Anonymous, or other group recovery meetings
Seeing a drug counselor for drug testing and guidance
Developing a support network of supportive, sober individuals
At present, sober living homes are not usually regulated by law, and operators do not even need a license. For this reason, the terms of caveat emptor apply – "buyer beware." In this context, this means to be discerning in the search for a sober living home, and select one that will optimize the goal at hand, long-term recovery, and healthy living.When selecting a sober living home, recovering female substance abusers may need to determine:
Costs and whether any local/state grants are available to help
If there is a guarantee of female-only living if tenancy were to drop below a certain level
How any needed child care requirements will be met
If the policies, such as curfew, conflict with any child care responsibilities
If medication-assisted treatment participants are allowed (i.e., prescription methadone or Suboxone users)
An advocacy group, the Pennsylvania Recovery Organization-Achieving Community Together (PRO-ACT), provides a helpful and insightful consumer guide on how to find the right sober living home.[11] When seeking a sober living home, female and male recovering substance abusers can benefit from interviewing the home's operator(s) with these PRO-ACT questions (among others provided in the guide):
Can I see a list of the house rules and policies?
Are residents required to have/seek full-time employment?
Are overnight furloughs allowed?
Is occupancy immediate, or is there a wait list?
Are there random drug tests?
Is transportation available and provided by facility? (e.g., in order to get to outpatient treatment, and/or see family, including children).
Source: PRO-ACT
Family Matters and Social Readjustment
Although substance abuse appears to be one of the most intimately personal experiences, it is a "family disease." Families may not only contribute to the psychological issues underlying substance abuse, but they can be an instrumental part of the healing process. Families may be involved in each step of the rehab process, including an intervention/getting the substance abuser into rehab, attending family therapy sessions at the rehab, receiving individual psychotherapy, attending Al-Anon or Nar-Anon group recovery meetings, and providing housing post-rehab (or other support, such as child care).
During inpatient rehab stays, family members and other loved ones are physically separated from one another, which can provide some cooling-off room for everyone. At a remove from the substance abuse, loved ones can often better assess whether they are playing a codependent role in the abuse. Codependence has been described as a co-addiction; the substance abuser is addicted to drugs, and the codependent individual is addicted to "fixing" or "rescuing" the addict from herself.
Also at this point, loved ones' repressed feelings of anger and resentment can emerge.[12] These emotions can be useful in group therapy (with the recovering substance abuser) or individual therapy, and be the starting point for honest, open, and trust-building communications.
As research on gender and substance abuse demonstrates, females in recovery are often enmeshed in different social and familial networks than men. For example, a female who is a mother and primary child care provider will require child care support in order to seek recovery services. A female substance abuser's parenting obligations can be a barrier to treatment but may also provide the greatest incentive to achieve abstinence.
The key to long-term recovery for females will be ongoing support services that focus not only on abstinence but also on their social and family needs. As research shows that female substance abusers, compared to men, often have less education, money, and employment history, effective post-rehab services need to be designed to improve all of these areas. It is important to keep in mind that recovery is never about abstinence alone. Rather, positive behavioral changes are integral to long-term recovery. Rehab can provide a system reset in the game of life – a new direction bent on winning rather than losing everything to drugs.
Sources
Flood, R. (Jun. 25, 2013). "Stigma and the Female Addict." Addiction Professional. Accessed Jan. 18, 2015.
Ibid.
"Gender Differences in Drug Abuse Risks and Treatment." (Sept. 2000). National Institute on Drug Abuse. Accessed Jan. 18, 2015.
"National Survey on Drug Use and Health." (2014). Substance Abuse and Mental Health Services Administration. Accessed Jan. 18, 2015.
"Gender Differences in Drug Abuse Risks and Treatment." The National Institute on Drug Abuse. Accessed Jan. 18, 2015.
Ibid.
Green, C. (n.d). "Gender and Use of Substance Abuse Treatment Services." National Institute on Alcohol Abuse and Alcoholism. Accessed Jan. 18, 2015.
Ashley, O. et al. (2003) "Effectiveness of Substance Abuse Treatme[…] for Women: A Review." The American Journal of Drug and Alcohol Abuse. Accessed Jan. 18, 2015.
Ibid.
Ibid.
"A Consumer Guide to Sober Living." (Aug. 31, 2010). Pennsylvania Recovery Organization-Achieving Community Together. Accessed Jan. 18, 2010.
Ibid.