Co-Occurring Bipolar and Substance Abuse Recovery: Signs, Symptoms & Treatment
If you or a loved one is struggling with addiction, help is available. Speak with a Recovery Advocate by calling
(855) 771-1581
now.
Close to 3 percent of American adults have bipolar disorder, according to Psychology Today. For people with this condition, life consists of a series of severe ups and downs, and those shifts can be remarkably difficult to control.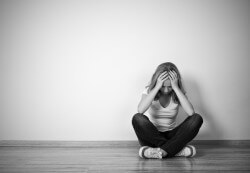 Thankfully, there are a number of effective treatments that can be used in the fight against bipolar disorder. However, many people who have this condition don't get the help they need, and sometimes, they self-medicate with substances that do them much more harm than good.
Links to Substance Abuse
The National Institute of Mental Health reports that substance abuse is common among people who have bipolar disorder, although the reasons for this link aren't altogether clear.
For some, substance abuse seems like a great treatment for bipolar problems. When these people feel a boost of mania coming on, they drink alcohol or take a sedating drug, all with the hope of stopping the shift and remaining on an even keel. When depression appears, they use energizing drugs in order to stay afloat and busy. For them, the drugs work like levers to amend the shifts that come with the mental illness.
For others, the substance abuse is a symptom of mania or depression. When these people feel manic and invincible, they don't see the risks involved with drug use. That means they're at risk for taking more than they should, all because of their mania. During a depressive episode, the dangers of drugs are welcome or unimportant, as they don't see the point in preserving life.
Substance abuse tends to grow worse with time, as each hit of drugs tends to do damage that can make underlying mania or inherent depression deeper and stronger.
Some people with bipolar disorder just don't know of another way to live, and that might remain true even if they seek help from an expert.
The Depression and Bipolar Support Alliance reports that 10-25 percent of people diagnosed with depression may have bipolar disorder instead. This stat suggests that at least some people who ask for help with bipolar disorder don't get the assistance they need. That could lead these people to attempt self-recovery, or they might see their bipolar symptoms worsen.
Medication Options
With a proper diagnosis of bipolar disorder, almost everything about a person's life could change, and that shift might begin with a sobriety attempt.
Detoxification centers use therapy, medications, and support to ease the transition from intoxication to sobriety. People with bipolar disorder might need a little extra supervision during this process, as withdrawal can sometimes trigger an episode of either mania or depression. With the right kind of care, this process can move quickly, leaving the person sober and ready to work on the underlying addiction cause.
Medications might be a great way to begin the bipolar healing process, and the University of Maryland Medical Center says there are a number of different medication choices out there, including:
Lithium
Anti-seizure therapies
Anti-psychotics
Antidepressants
Some of these medications are used intermittently, as a way to stop a manic or depressive episode that's already in progress, but others are meant for long-term use. These therapies can keep brain chemistry under control, and studies suggest they might even amend the structure of the brain itself.
In a study of lithium's use on 15 people, highlighted by ScienceDaily, researchers found that people with bipolar disorder under lithium control had brain structures similar to those seen in people without bipolar disorder. Those with bipolar disorder and no lithium had elevated signals in the cerebellar portion of the brain. That's an interesting finding, and while more research must be done, it suggests that lithium has a power that goes beyond mere soothing. It might just help the brain to heal.
Therapy Choices
While medications can be a great help in addressing bipolar disorder, they're not the only tools treatment teams can use to give their clients power. Psychotherapy can be a great choice for people with bipolar concerns, especially since therapy can also help people to keep their addictions under control. Cognitive behavioral therapy (CBT) is used to help people to identify and amend unhealthy or negative belief systems or behaviors. This is the therapy that helps people to examine what happens right before they do something that's harmful to their health in the long-term. What thoughts floated through their minds? What actions did they take? By understanding these factors and breaking them apart, people can come to a new understanding of what they'll need to change during a crucial moment, so they won't slip up and do something they'll regret.
For example, some people with bipolar disorder are unable to spot the very early signs of mania. They allow the mania to build and build until it's hard to control, and when it reaches that stage, drugs and alcohol are often added to the mix. In therapy, people might learn to spot what early mania looks like, and they might learn to use meditation, medication, and social support to stop it before it progresses.
Education is a big part of the therapy process for bipolar disorder and addiction. People need to understand these conditions intimately, so they'll know just how to keep themselves safe over the long term. Some programs utilize a group format for these learning sessions, so people can learn from one another, while others use one-on-one education sessions paired with reading materials, videos, and other take-home lessons.
Therapists may also help their clients to build healthy, productive, protective lifestyles that can help them to manage bipolar disorder just a little easier. For example, a study of 175 adults conducted by the American Psychological Association suggests that regular daily routines help people with bipolar disorder to keep their symptoms under control.
Therapists might help their clients to understand the value of routine, and they might build on that knowledge by:
Asking clients to sketch out a typical day
Looking through that sketch with clients and determining what steps are repeated
Putting together a schedule in concert with the client
Checking back in with that client to ensure the schedule is working
Informing the family of the schedule, so family members can provide additional support
The idea isn't to micromanage anyone's life. Instead, it's to help people pull together a life that's predictable and safe, so they'll be less likely to struggle with mania and depression.
Managing bipolar disorder over the long-term takes a great deal of work. As a woman reveals in an article for The Atlantic, people with bipolar disorder have to set aside a time every single day to take medications, participate in therapy, and otherwise handle their symptoms. Some people, like this woman, are worried about sharing their diagnosis with others, for fear of stigma or shaming.
That's why remaining attached to long-term support is vital. People with bipolar disorder may always need medication help and emotional support, and they may not be able to get these tools from the community at large. Without that help, they might easily fall back into drugs, alcohol, or both.
A proper treatment program begins with medication and intensive therapy, but it never really ends. People with bipolar disorder might always have therapy appointments to attend and medication prescriptions to refill. They might always have support group meetings they should attend, and mentors they can call when times are tough. This ongoing support can protect them from a relapse to bipolar dysfunction, addiction, or both.
Asking for Help
While bipolar therapies, especially when paired with addiction therapies, can be vital for long-term health and success, many people who have bipolar disorder resist the idea of therapy. As the American Academy of Family Physicians points out, the mania portion of bipolar disorder can make people feel empowered and invincible, and some might not want to give up those sensations. In addition, some people with bipolar disorder just don't recognize the impact the condition can have on the people they love.
An intervention might help with both of these issues. In an intervention, the family can come together with an expert to hold an educational session on what bipolar disorder is and how it can be treated. They can also express the symptoms of addiction and dysfunction they've seen, and they can urge the person they love to get help. An intervention like this can be an informative process for people with bipolar disorder, particularly if they know little to nothing about how an addiction or bipolar disorder works. If this conversation is held properly, it can be a loving and healing talk for everyone involved.
In an intervention, everyone has the opportunity to talk openly and honestly, and everyone has the opportunity to learn and grow. It could be just the start of the changes your family will make to help someone you love to heal from bipolar disorder.
If you'd like information on holding an intervention, or you need more information on how treatment works and what it's designed to do, please call us at the Orlando Recovery Center. We have staff available to answer all of your questions, and we'd love to hear from you.
Let's talk about your recovery